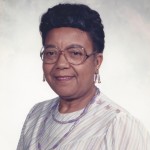 Dessa Edyth Parkey Blair, age 95, departed this life on September 21, 2018 at UT Medical Center. She was born February 7, 1923 in Rebel Hollow in Hancock County, Tennessee, the oldest of six children (Dessa, Howard, Allena, Ozella, Julia and Hazel). Her parents were the late Lawrence H. Parkey and the late Roxie (Fugate) Parkey, who were tenderly knitted together with love and respect for each other and their family. They were positive examples to emulate!
Dessa was nurtured in a Christian home where respect and obedience were mandated. She was taught to live by the Golden Rule: "Treat others as you wish to be treated." It paid off in great dividends!
There was no school for her family in her white neighborhood. Therefore, her multi-talented father taught her the first three grades at home, teaching them many skills about life and living. She graduated from Lincoln High School in Middlesboro in 1944 and later graduated from Knoxville College in 1959, where she was the Valedictorian.  She served the community as a school teacher for 33 years, teaching at Knox County Schools, including at Cansler, Smithwood and Park Lowery Elementary Schools, and Vine Middle.  She taught Black history in school before anyone else did, hosting a Black Heritage Bowl in 1963 in honor of the Emancipation Proclamation and writing the social studies curriculum for all of Knox County at one point in the 1970s.
Dessa joined Hoop Creek Baptist Church, Tazewell, at the age of 14 years. She later joined New Hope Baptist Church in 1944. In 1949, she married John R. Blair, to whom we she was wedded for 29 years until his passing. Together they joined Mount Olive Baptist Church, East in 1961.
Dessa has served in numerous positions and fulfilled many roles over the years. She taught Sunday School for 12 years in the Young Peoples' Department, where the enrollment was over 100. She also served as Secretary of Trustees for 14 years, was chair and organizer of the Black Heritage Room of Mount Olive Baptist Church (named in her honor), the treasurer and promoter of the Church Mortgage Burning, leader of the beautiful flower garden planted inside on the ground level and served on the Welcome Committee for many years.
Dessa has served as speaker, introducer of speakers, given the occasion, and panel participant at Mount Olive Baptist Church, as well as at other churches, etc. She worked out her soul salvation; so now, she has finished her course so she can receive her just reward!
Dessa joined the Delta Sigma Theta Sorority in 1966. Among her duties, she served as president for 8 years of the local chapter, 10 years as chair of the Scholarship Committee and was the Parliamentarian for many years. She was also the corresponding secretary of KC Alumni for numerous years and the chairperson of the KC Alumni House Project, the renovation and furnishing for the first floor of Old Wallace Hall beginning in 1983. She retired from the school system in 1987 and served on the new Knoxville City Tree Board for 20 years. She was also active in her neighborhood group since its inception and served as its treasurer.
She is preceded in death by her husband, John Raymond Blair; parents, Lawrence and Roxie Parkey; brother, Howard Spencer Parkey; sisters: Allena Parkey, Julia Mize, Hazel Fishback and Ozella Littlejohn; nephew, Young Deaver Littlejohn; and great-niece, Jimmicia Gordon.
She leaves to cherish her memories her sisters-in-law: Mary U. Blair and Mary Frances Tyler; brother-in-law, Eugene Mize; devoted nephews: Tony (Marilyn) Littlejohn, Dana Littlejohn and Shelvin Fishback; fantastic nieces: Sabrina (Frederick) Payne-Bland, Vanessa Littlejohn and Daphne Yoletta Fishback; precious great-nephews and great-nieces: Brandon, D.J., Evan, Kevin, Shelvin Jr., Dana Jr., Ashley, Yonti, Brittany, Karissa and Briana; and a host of relatives and friends.
The Omega Omega Service for Delta Sigma Theta Sorority will be on Saturday, September 29, 2018 at 11:00 AM at Mount Olive Baptist Church, 1601 Dandridge Ave. The family will receive friends from 11:30 AM to 12:30 PM, with the Homegoing Celebration to follow, at the church with Reverend Jesse L. Williams officiating. The final resting place will be at Martel Cemetery in Lenoir City. A white dove release will conclude the services.
In lieu of flowers, donations may be made to the Beck Cultural Center or to the Dessa E. Blair Scholarship, Knoxville Chapter of Delta Sigma Theta Sorority.