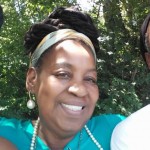 Betty Jane Reed, 62, of Knoxville, departed this earth on September 19, 2018, surrounded by her children and grandchildren. She was born to Emma B. Reed and George Franklin. Betty was affectionately known as "BJ" to all her friends in New Jersey. Betty moved to New Jersey in 1969 and graduated from Neptune High School. She moved back to Knoxville in 1990. Betty was the life of her party. She enjoyed her children, grands, nieces and nephews. Betty loved listening to old school music from the 70s, 80s and James Brown's "I'm Black and I'm Proud." Betty is preceded in death by her mother, Emma Reed; daughter, Theresa Reed; brother, Jeff Moore; sister, Tonya Franklin; aunts, Lillian Cash Mary Reed; uncle, Oliver Reed; and dearest friend, Jane Warren of Neptune, NJ.
Betty leaves to cherish her loving children: Kristy Reed-Lowrance (and son-in-law Bruce Kirkland); son, Issiah (wife, Renée) Reed, Jacob Denzel Grant and Richard Eugene Reed [all of Knoxville]; her grandchildren: Kayla Reed, Justice & Faith Lowrance, Quamir Reed, Jayden Reed, Brooke Moore, Alyssa Perry and Jayden Nafziger; and five great-grandchildren; her brothers, Randy (wife, Dawn) Reed of Neptune, Donald Moore [of Great Bend, KS] and Jimmy (wife, Lisa) Reed [of Asbury Park], George Franklin Jr., Cameo Boone, Sean (wife, Latrenda) Franklin [all of Jackson, MS] and Willie Swope [of Alabama]; sisters: Frankie (husband, Dean) Winrow [of Asbury Park, NJ], Tirah (husband, Terone) Mixon [of Jackson, MS], Wanda (Redd) Utley, Annie (Davis) Jordan, Gertie Swope, Ester Franklin, Jennifer Franklin, Shanna Swope and Harriett Simmon [all of Alabama]; and step-mother, "Mama" Delores Swope [of Alabama]; and a host of nieces, nephews and cousins.
The family will receive friends on Friday, September 28, 2018 from 10-11 AM in the William V. Powell, Jr. Memorial Chapel, Unity Mortuary, with the Homegoing Service to follow with Rev. Dr. Harold Middlebrook officiating. The final resting place will be at New Gray Cemetery following the service. A white dove release will conclude the service.