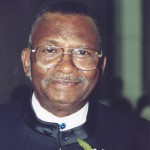 Bishop Elder Samuel Jemerson Smith, Sr., was born December 17, 1929 in Knoxville, Tennessee to the late Emma Preston. He departed this life June 8, 2018. He was the oldest of three children. Samuel was reared both in Knoxville, Tennessee and in West Virginia.
In 1948, Samuel and Navernia Carter (Smith) were happily married. To this union eight children were born.
Samuel was an active member at Trinity Seventh-Day Adventist Church, 222 Kirkwood Avenue, serving as deacon, elder, and treasurer over twenty-five years. He aided in the orchestration and renovation of Trinity (SDA) Church in 1996. Also, he served on the College Hill's SDA School Board for the advancement of Christian Education.
He belonged to the Ebenezer Seventh-Day Adventist Church in Freeport, New York. He was one of the master minds that steered-headed the Building Committee to renovate Ebenezer SDA Church.
He was employed by the New York City Transit Authority in 1960 until he retired in 1988, serving for twenty-eight years.
On November 13, 2004, Samuel married Gladys Tywanna (Cash, Lowery) Smith.
Bishop Elder Samuel was proclaimed an honorary member of the Church of Right Now, Euclid, Ohio, through the direction of the Holy Spirit to/by the Bishop Charlie and Apostle/Pastor K. Cash Hawkins on October 18, 2015. Additionally, he was a consistent, humbled, faithful Prayer Warrior, always on his post until the very end, a watchman on the wall for God's kingdom to come, God's Will to be done on earth as it is in Heaven.
He was preceded in death by his mother, Emma; first wife, Navernia; sons, Samuel, Sidney, Ward and Gregory; daughter, Karen; brothers, Robert and Clarence; and sons-in-Iaw, Bryant Loftin Sr., and Roger Baylock.
He leaves to mourn his passing a loving, caring, compassionate, and devoted wife, Apostle Tywanna Smith, Doctor of Ministry; a loving, caring, and devoted daughter, Gwendolyn Baylock; sons, Ronald (Louise) Smith, Hempstead NY, and Donnell Smith, Knoxville, TN.; stepson, Walter K. (Chimere) Lowery, Jr., Charlotte, NC; sister-in-law, Celeste Jemerson, Freeport, NY; grandchildren: Christopher, Jessica, Electa, Deointe, Bryant, Leslie, Lucaya, Danielle, David, Lisa, Donnell Jr, and Andrew; 22 great-grandchildren; 7 great-great-grandchildren; a host of nieces, nephews, cousins, and friends; and special devoted friends: Elder Mary Harris and Virginia Randolph.
The family will receive friends on Friday, June 15, 2018 from 11 AM to 12 PM at Honey Rock Victorious Church, 4004 Holston Drive, with the Celebration of Life Service to follow with Elder Charles Edward Dickey as eulogist. The final resting place will be at Berry Highland Memorial Gardens following the services. A white dove release will conclude the services.