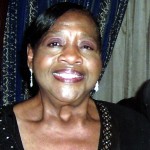 Newton, Mary Alice Mitchell - affectionately known as Mama Newton, Granny, Ma, Aunt Mae, Aanee and best friend to many, was born November 24, 1933 the first of 11 children to the late Herman and Verona Mitchell.
On June 15, 1957, she married the love of her life, Melvin Newton. They were married 42 years and raised 4 children prior to his death in 1999. Mary was one of Jehovah's Witnesses and longed for the day when all of Jehovah's promises will be fulfilled (Rev 21:1-5). She remained faithful until her death. In addition to her husband, she is preceded in death by her brothers, Charles and Arthur Mitchell and sisters, Daisy Fitzpatrick and Virginia Flack.
She leaves to mourn her passing: devoted children, Brenda Newton, Sharon Newton, Melvin (Karen) Newton, all of Knoxville, and Lawrence (Dora) Newton, Etowah, TN; grandchildren: Lawrence "LJ" Newton, Wesley Gibson, both of Knoxville, Whitney Newton, Nashville, TN, Camden Newton, Louisville, KY, TJ Bewley, Johnson City, TN, Chester (Misty) Brown, Etowah, TN, Mericilla (Eric) Giddens, Nashville, TN, Gabriel Brown and Iwanna Knox, both of Athens, TN; eight great grandchildren; three great great grandchildren; surviving siblings: Herman Mitchell, Lawrence Mitchell, Lonnie (Peggy) Mitchell and Brenda (William) Cansler, all of Knoxville, James (Yvonne) Mitchell, Memphis, TN, Joyce (Walter) Parton, Maryville, TN; a host of nieces, nephews, great nieces and great nephews; many dear friends including Eleanor Locke, Tampa, FL,  Ms. Johnnie Barker, Elizabeth Tippitt, Carty Conwell, Yvonne Lee, all of Knoxville, Betty Robinson, Faye Willis, both of Johnson City; extended families to include: Colquitt Family, Taylor Family, Gerra Family and Green Family; special daughters: Sharron Colquitt Glass, Maria Bingham and Patrice Askew. Special thanks to nursing staff @ UTMC for the excellent care given to our love one. On Saturday, August 11, 2012, visitation will begin at 3:45 p.m. to 4:30 p.m., with a memorial service to follow at The Kingdom Hall, 110 E. Young High Pike. Bro. Charles Bowers officiating.