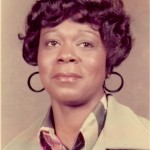 On April 3, 2019, Davene Delories (Davis) Thomas, 77, a native of Knoxville, Tennessee and former resident of Paducah, Kentucky, departed her earthly home on Wednesday April 3, 2019 at Arlington Memorial Hospital in Arlington, Texas.  An only child, she was preceded in death by her parents Julialee & David R. Davis. she was a child piano prodigy, piano instructor, career music educator of 37 years, extraordinary soprano vocalist and organist.  While in high school, she became the first African American pianist to win the Knoxville Symphony Orchestra's Piano Soloist Competition.  She won this prestigious award for two consecutive years. This recognition was further enhanced by providing her the distinct opportunity to perform as soloist with the full orchestra at the culmination of each piano competition.
After Davene professed Christ at age 16, she became a faithful member of Lennon-Seney United Methodist Church where she served as Minister of Music for four years. She became a member of Alpha Kappa Alpha Sorority, Inc. while at Knoxville College, where she received her B.S. degree in music in 1963.  In 1964, she relocated to Paducah, Kentucky where she began her career as a vocal music educator at Lincoln High School prior to the desegregation of the Paducah Independent School System.  She taught vocal music at several other Paducah Schools: Northside, Morgan, and Cooper-Whiteside Elementary Schools; Brazelton Junior High School, where she began "The Brazeltones" vocal performance group; and Paducah Tilghman High School. She retired from the Paducah Independent School System in 1989.
During her time in Paducah, she also continued her dedication to her service organization, Alpha Kappa Alpha, Inc., even serving as the Basileus of Paducah's Beta Omega Omega Chapter.  Davene served tirelessly as an organist, pianist and soloist at Washington Street Missionary Baptist Church for nearly twenty years.  She also served as a Steward at St. John A.M.E. Church and as its organist prior to relocating to Knoxville to care for her beloved Mother.
Most assuredly, Davene left an indelible mark on this Earth.  She was honored with Paducah's highest citizen's award: Duchess of Paducah; and Kentucky's highest citizen award: Kentucky Colonel.  After retiring in Kentucky, she was called to serve her hometown community and became recertified as an educator in Tennessee where she taught for another 10 years at her alma mater, Austin High School, which had since become Austin-East High School, a magnate school for the performing arts.  She returned to Lennon-Seney as its organist and director of music. For over fifty years, she taught an incredible number of children and adults to play piano.  As a devoted mother, she taught her daughter and her older grandson how to play the piano while at the same time instilling in them the importance of having an appreciation for the fine arts and classical music training.
 An accomplished woman who commanded respect from her students, Davene was the epitome of the word, lady.  She was always well-dressed and fashionably attired.  She was a fun and compassionate teacher—a role model and mother to thousands of students during her career as an educator extraordinaire. Having been graced by God, she was a walking miracle of the Lord after surviving and thriving following a life-threatening health crisis two years ago. God spared her to spend more time with her family and enjoy the blessing of life. She has transitioned according to God's plan to join her dearly departed mother, father and maternal-grandmother in heavenly rest.
She is survived by her loving and devoted husband of twenty-three years, George I. Thomas; loving son, Dow Earnest Wilson, of Grand Prairie, Texas; loving and supportive daughter, Dawnita J. Grimes; her beloved son-in-law and kindred spirit, Anthony Grimes; and the pride and joy of her later years, her two grandsons, David and Matthew Grimes of Frisco, Texas.  She also leaves behind a brother-in-law, Bobby Thomas of Denver Colorado; a sister-in-law, Martha Nicholson of Nashville, Tennessee, and a host of nieces and nephews.
The Celebration of Life Service for Mrs. Thomas will be held on Saturday, May 4, 2019 on 11:00 a.m. in the William V. Powell, Jr. Memorial Chapel of Unity Mortuary, 1425 McCalla Avenue, Knoxville, Tennessee. Family visitation will precede the service beginning at 10:15a.m. Arrangements made with integrity by Unity Mortuary of Knoxville. Mrs. Thomas's guestbook can be signed online at www.unitymortuary.com and www.legacy.com.