Unified for Serving ~ Committed to Caring Since 1979 

The planning for Unity Mortuary started several months before it opened its doors on April 1, 1979. The original founders--Bill Powell, Jeff Davis, and Bryant Keese--began assessing the financial feasibility and conducting studies for establishing a new professional-quality funeral home after the closing of a landmark funeral home that had served Knoxville's minority residents for many years. In 1977 after successful negotiation to obtain financing for the largest bank loan to a minority business at that time, Unity Mortuary began construction.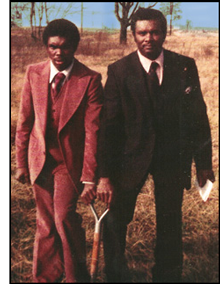 One fundamental concept of the Unity progenitors was that the organization behind the funeral services would last in perpetuity so they established a corporation, as opposed to individuals, to own the business. That corporation was named JAB, Inc., and still exists today. The first officers of the corporation were two of the progenitors, Jeff Davis as President and the late Bryant Keese as Vice President, and the son of a third progenitor, AV Powell as Secretary and Treasurer.
Another fundamental concept in the development of Unity was the maximum participation by other minority businesses in the planning, design, and construction of Unity Mortuary. A minority consultant completed the feasibility study that was prepared to assess financing creditworthiness. A certified member of the American Institute of Architects, the late Rev. Dr. DeWitt S. Dykes, was commissioned to design the facility. The general contractor was Mr. Felix Gaiter who worked with the management of Unity to overcome obstacles to obtaining bonding for minority contractors, just as Bill Powell had done in obtaining bank financing.
The talents and skills of many minorities who were involved in the project are reflected in the physical structure that exists today. Rev. Dykes' architectural skills can be seen in several churches and other facilities, both locally and in nearby towns. Mr. Gaiter's skills as a brick mason are well known in the Knoxville community.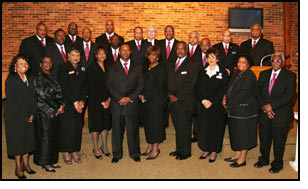 Currently Unity Mortuary is the newest and the most progressive minority-owned funeral home in the Knoxville area. We have provided thirty-one years of funeral services to Knoxville and the surrounding communities. We typically arrange more than 100 homegoing services each year. By adhering to our motto, "Unified for Serving—Committed to Caring" it is our goal to provide the highest level of professionalism and quality in all aspects of the mortician's services, from initial family counseling and dealing with financial arrangements to interment and post-death bereavement support.
Our current management team and all of Unity's staff are available to you and your family whenever you need our assistance.
Jefferson Davis, Jr., Chairman of the Board, the last surviving progenitor, is a licensed funeral director and embalmer. He is a graduate of Gupton Jones College of Mortuary Science at the original Dallas Institute. Mr. Davis has over 50 years of experience in the funeral industry. Prior to starting Unity Mortuary in 1979 he worked for Wheeler's Mortuary for more than two decades.
Dr. Lula C. Powell, Vice President and Secretary of the Board, is the wife of the Unity progenitor, William V. Powell, Jr. She is a graduate of Knoxville College and received both her Masters and EdD from the University of Tennessee. She worked in the Knoxville public school system for more than 40 years, having served as principal of Green Science and Math School for 26 years before retiring in 2001. Dr. Powell joined the Unity management team in July 2009 and is currently pursuing her funeral director's apprenticeship.
AV Powell, Chief Financial Officer and Treasurer of the Board, is a consulting actuary who also manages a national actuarial consulting firm with offices in Atlanta, St. Louis, and Kansas City, Missouri. He graduated from Harvard University with a statistics major and received a Masters degree in actuarial science from Georgia State University. Mr. Powell has completed doctoral coursework in risk and insurance at the Wharton School at the University of Pennsylvania.
---